First Visit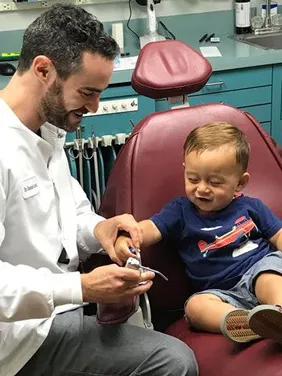 In general, seeing a pediatric dentist when your child is 12-24 months old is a good rule to follow. The dentist will introduce your child to the dental instruments in a playful way, do a clinical examination to detect decay and evaluate proper dental and facial development, and give guidance regarding oral habits, oral hygiene, and stages of dental development. Choosing a toothbrush, practicing brushing, counting the teeth, and catching bubbles are part of the game. It is typical for most children to smile, even laugh, and have a fun visit. Our dentists are exceptional in guiding the child. Parents should smile and enjoy the trip as the Doctor takes over the appointment. Each child is treated individually and brought into the interaction with the dentist in a personalized way.
While many children get their teeth between 6 and 9 months, it is not unusual for a 12 month old to have fewer than 8 teeth. There is a wide range for normal tooth eruption. Prior to the eruption of the first tooth, it is a good idea to wipe the gum pads with a washcloth during bath time and after meals. Begin brushing with a soft bristled brush up upon the eruption of the first tooth. Plaque will form on any tooth and the gum pads around them causing potential inflammation and teething discomfort.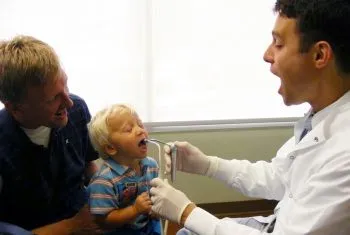 Dental problems can begin very early. The primary cause of dental decay in young children is nursing or baby bottle tooth decay. A baby may get severe decay when he or she nurses constantly from the breast or a bottle containing milk or juice during bedtime or naps. A child should not be put to bed with a bottle of milk, juice, or sweetened liquid. If a bottle is used, only water should be used. A pacifier is preferable to finger habits. Bottle feeding should be stopped by one year of age.
We strive to make each and every visit to our office a fun one!